Heroes Among Us Charity Festival
WINNER OF THE STUDENT PROJECT CONTEST IN 2015
About the Project
Heroes Among Us is a large charity festival that sees the participation of not only social groups from HSE and other schools in Moscow, but also of national charity foundations all over Russia. The festival is open to everyone, and each visitor can come to Heroes Among Us to learn something new, take part in the discussion, and become part of one of the projects that participate in the festival.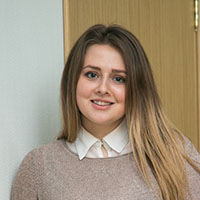 Yana Belyakova,
First-Year Master's Student in the Media Management Programme
and One of the Project's Coordinators
In January 2015, I joined HSE's charity organisation Otkroi Glaza (Open Your Eyes) as a coordinator. The organisation has been around for nearly 10 years already, and in this time local charity nights have taken place several times at HSE's cultural centre. But after the cultural centre was closed, these events stopped. It just so happened that a lot of new people joined the project when I did, so there was a spike in activity. We wanted to do something big to tell people about our group.
When we found out about the student project support competition, we immediately decided to take part. We wrote down all of our ideas and created a plan. It wasn't very well structured, but it was ambitious. We applied (as always, at the last minute), and successfully made it through all of the rounds and were allowed to defend our project before a panel. Practically right before the defence it became clear that one of the participants was Andrei Artyushin, a coordinator for HSE's charity project ICEF Outreach. We have nearly identical ideas – big social festivals aimed at getting people interested in charity work at HSE and festivals that focus on fundraising and helping the organisations that we oversee. At first, neither of us knew what to do, but then we realised that it's really not good for charity projects to compete with one another. So it took us literally just one night to coordinate, bring our ideas together, and think of a joint festival. Everything was a success in the end, and we got support and financing.
In 2015 our idea was to bring together all of HSE's student charity organisations at the festival. During this process, however, we realised that we needed to invite organisations from other universities as well. The first festival saw the participation of various social projects from Moscow State University, Moscow State Institute of International Relation, and the National Research Nuclear University MEPhI. They all talked about what they were working on, and each guest was able to pick what they were interested in at the festival and join in.
The money we received after winning the competition was not enough, of course. Even the maximum possible amount, 200,000 rubles, wouldn't have been enough for us to rent out even the cheapest venue in Moscow. This is why HSE administration helped us out and reached an agreement with the ZIL Culture Centre. We spent the money we received on internal festival expenses – souvenirs, necessities for the workshops, and venue rental.
Participating in the Student Project Contest provides you with the opportunity to make yourself known and demonstrate your determination. After winning the competition, we met with the HSE Corporate Projects Directorate, which offered to team up with us to carry out the next festival together. This was a mutual decision, and we didn't need to participate in the competition to organize the second festival since we were included in the HSE budget.
Two important goals of the Heroes Among Us festival are to inform people and collect money. Charity work is currently being taken to a new level, and the excuse 'I don't have enough money' no longer works here. If you don't have enough money, then you can help by doing something. And if you don't have the time, then you can sign up for monthly donations. We just tell people how they can become needed and important.
We are continuing to develop, and aside from HSE and student projects around the city, we are now working with large funds and charity organisations. This year we teamed up with Dom s Mayakom (Home with a Lighthouse), a private children's hospice in Moscow. They do something unique and are in desperate need of financing. During the second festival, we held a round table on the topic, 'When is it time for a hospice?' to talk about how the system of palliative care operates today.
Ahead of this year's festival, we have announced the 'Month of Important Things' event at HSE, and we've already held several offline charity events. Around Valentine's Day, for example, you could buy handmade jewellery or go to a charity film viewing or play at HSE's theatre. It might seem like the events were local and covered one or two campuses, but we were able to collect over 50,000 rubles to give to Home with a Lighthouse. Everything is of course relative, and in terms of all of the funds that they collect, this isn't a huge amount. But if you think about it in terms of just going somewhere, buying a pastry, and amassing that much money as a result, this is very telling.
The festival's team is growing rapidly right now. Six months after the first festival, we got around 50 new volunteers, and the team now has more than a hundred. I really hope that the lyceum students and university freshmen that joined the project will continue working with us. They may learn a few lessons by volunteering and then next year come with new ideas that we can act on.
Other winners of the Student Project Contest
Have you spotted a typo?
Highlight it, click Ctrl+Enter and send us a message. Thank you for your help!
To be used only for spelling or punctuation mistakes.