Student Mentoring School at HSE in St. Petersburg
2016 Winner of the Student Initiative Competition
About the project
The Student Mentoring School at the HSE campus in St. Petersburg trains students to act as guides, or mentors, for freshmen. Students who have successfully completed their first year are welcome to take classes at the Student Mentoring School. As they become second-year students in September, they help first-year HSE students find their feet at the university. As part of the School, the students learn about HSE's organizational structure and student associations, how to conduct orientation sessions, and how to lead training and games for freshmen.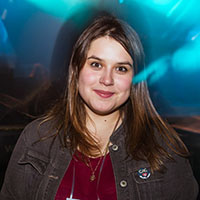 Irina Tebyakina,
history student at HSE in St. Petersburg,
is one of the project coordinators
The first mentors were introduced at HSE in 2011. The idea was to help first-year students adjust to the university. The Student Mentoring School at HSE in St. Petersburg appeared before the Student Initiative Competition, in 2013.
I heard about this competition from Ruslan Yagudin, who heads the 2016 Student Mentoring School project, who then was a third-year student of Political Science and a mentor for the Philology programme. He was looking for someone to become his competition partner. Ruslan wanted to organize a major off-site event to bring together all future student mentors at HSE in St. Petersburg. At that time, I was a student mentor on the History programme, and decided to help him.
We filled in a long application on the HSE Family website to participate in the competition, it involved creating a budget, a plan and a programme for the event. While we were waiting for the decision, we started wondering whether we should instead hold the School within the university, but then, people from the Student Initiative Support Centre contacted us and invited to defend our project in Moscow. As far as I remember, there were about 40 – 50 projects that year, and only 25 of them made it to the viva stage. Our project fell into the 'Education and Skills Development' category, which also had other winners, such as Keystone, the EAEU model, and others.
We won the competition, getting full funding i.e. 199,730 roubles out of a possible grant of 200,000 roubles. This money was spent on accommodating 90 people (participants and organizers) at a camp, their transfer, meals, as well as on various expendables for the lecture halls, a rope course, role-playing games, and other activities.
The Student Mentoring School traditionally takes place at the end of May – beginning of June each year. Last year, we introduced an innovation: all the school participants had to pass a Unified Student Mentor Examination. It is similar to the Unified State Examination, with which all freshmen in Russia are familiar, and consists of a multiple-choice test, open questions, and a case-solving essay. The cases were based on real experiences. Last year, the School comprised a theoretical and a practical part. In the theory classes, future student Sherpas learned about the variety of student associations at HSE in St. Petersburg, nuances involved in relations with university management, and reviewed some frequent errors in the Examination. In addition, they had to try to organize an off-site event, help a student from a CIS country with their visa and migration card, and other challenges in the role-playing game. The off-site get-together became the final stage in this big project, which aimed to build mentoring teams, in order to make sure they wouldn't have conflicts during the upcoming year, being able to listen and understand each other.
As of today, we have organized four student Mentoring Schools, and about 300 people have participated in them. We get new people joining us each year, in addition to the organizing team. The project team includes 16 people during the off-site phase – one or two for each educational programme. In addition, there are people who work with the School's lecture section. We are already preparing the 2017 Student Mentoring School, and this project has already participated in the Student Initiative Competition.
Winning the competition helped bring the project to a new level. The School was held off-site for the first time, the team grew, and the number of adaptation events increased. Judging by the results, we can conclude that studying at the School was useful not only for today's mentors, but also for the freshmen and for the university as a whole.
Other winners of the Student Project Contest
Have you spotted a typo?
Highlight it, click Ctrl+Enter and send us a message. Thank you for your help!
To be used only for spelling or punctuation mistakes.