The Young & Creative Festival for Media, Advertising, and Design
2015 Winner of the Student Initiative Competition
About the project
Young & Creative is a festival for everyone interested in the development of the creative industries. Three sections are run in parallel over two days: Media, Design, and Advertising. Participants can attend lectures and workshops by professionals from leading media, advertising and design agencies, who share their experience.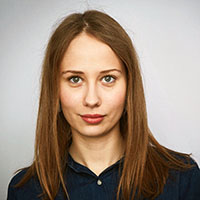 Julia Myshlyaeva,
HSE Faculty of Law graduate, developed the Young & Creative festival concept
I graduated from the HSE Faculty of Law, but during my studies I realized that law wasn't what I wanted to devote my life to, so started looking for my vocation in other fields. Today, I work at a large marketing agency. As a student, I took part in the creation of two student projects, The Vyshka online newspaper, and the Young & Creative festival.
At first we took part in the Student Initiative Competition as The Vyshka team. We thought that our media needed financial support in order to motivate its authors. The competition didn't cover these expenses, so we asked for money to fund a small print run of The Vyshka newspaper. The money we received covered printing expenses for half a year. At the same time, we came up with the idea of a big media festival. My friend Maria Kristalinskaya and I came up with the Young & Creative festival idea. When we were preparing for the first and the second festivals, our friends joined the organizing team – and so did students from various HSE departments, Anna Demochkina, Polina Klenova-Lenskaya, Daria Strelavina, Ivan Chernyavsky, Karina Bolshenkova, Julia Malikova, Natalia Ustyantseva, and others.
The main idea of the festival was to introduce the students to the latest industry developments. We realized that people study at the HSE Faculty of Communications, Media, and Design and other departments find it difficult to get a sense of what they could do as professionals, and what the market is like. First of all we wanted to help students meet industry professionals, and second, we wanted to demonstrate to professionals that our university has numerous students keen on being involved in projects – but who lack experience. We thought it would be useful and interesting for both sides, and it would also be a great project for the university as a way of promoting the HSE brand.
Maria and I invited the first speakers, some of whom were our friends. As a result, we got a balance: the speakers included both renowned professionals, such as Ilya Azar, employees of the First Channel and Bloomberg, as well as some interesting people from new, young agencies. I think that many of them delivered much more lively and useful lectures than revered journalists. We also organized a careers fair that involved agencies as ZenithOptimedia and Instinct.
We received about 100,000 roubles in financial support from the Student Initiative Competition, which was spent on visual branding for the festival. We created a logo, merchandise – notebooks, pens, bags, programmes, badges, and posters. We also needed water, food for the volunteer team of over 30 people, and catering for the speakers. The Faculty also supported us – assigning some funds for the festival branding, and paid for the staff to work on Sunday. In addition to that, Saturday classes were canceled, we received all the necessary equipment (cameras, microphones, and projectors), and the faculty managers helped both during the preparation for and at the event.
During the first and the second festivals we agreed on a barter partnership with a number of companies, that did not give us financial support, but instead offered food and gifts. For example, we had promo codes from Lingualeo and Bookmate, sweets from Peroni Honey, coffee from West 4. MeYou, a communication service, was active during our festivals, which helps people to stay in touch at conferences, watch presentations, and take part in surveys via their smartphones.
In 2016, we received financial support from the Oxford Foundation to organize the second festival. By this time more people had heard about the event and were willing to participate. Of course, when you are starting something like this from scratch, the main difficulty is to invite proper speakers. People don't want to participate in something they haven't heard about, but when you can give them something definitive – like figures, a list of the previous year's participants, people are much more likely to agree. In the second year our speakers included renowned journalists such as Natalia Sindeeva, Daniil Turovsky, Andrey Loshak, and Grigory Tarasevich, among others.
The competition is changing, and that is really great. Previously, the system wasn't very user-friendly, and we would find out the competition results when festival preparation was in full swing. We had to face the fact that we would probably have to carry out the event with zero budget. In addition, now you don't have to come up with a project during the competition; you can participate whenever you come up with your idea. It's great that this competition gives students an opportunity to take the initiative, to do what they are interested in, rather than just participate in events suggested by someone else.
Now we are actively enrolling people in the team for the third Young & Creative festival, which is taking place in May. This event will be carried out by the Faculty of Communications, Media, and Design. I'm happy that, even though most of the festival organizers have already graduated, the festival continues.
Other winners of the Student Project Contest
Have you spotted a typo?
Highlight it, click Ctrl+Enter and send us a message. Thank you for your help!
To be used only for spelling or punctuation mistakes.